0
Amazing Norwegian Adventures
0
readings of The Lord of the Rings
0
years director, NZ Fighter Pilots Museum
0
miles travelled around Somerset
Introduction
Ian Brodie is an award-winning landscape and unit stills photographer, film tourism expert and internationally successful author based in Perth, Western Australia.
A household name in New Zealand, he has been described as the ultimate Tolkien fan. The 61-year-old is widely recognised as a 'Middle-earth' guru, and author of five best-selling books, The Lord of the Rings Location Guide (volumes 1 and 2), The Lord of the Rings Location Guide Extended Edition, Cameras in Narnia and The Hobbit Motion Picture Trilogy Location Guidebook.
As a result, his name and face are familiar; both nationally, and even more significantly, internationally, to dedicated LoTR and Hobbit fans, in a manner that is quite unique. The vast army of dedicated Tolkien fans, who are the target market for both The Hobbit movies, and by association, for 'Middle-earth Aotearoa' know he is one of them, and respond to him in a way no other professional actor or spokesperson can hope to replicate.


Born in Auckland and educated at Otahuhu College, at the age of 14 he read J.R.R.Tolkien's The Lord of the Rings trilogy for the first time, and has since lost count of how many times he has read and reread both the series and Tolkien's other published works. When the first of the three award-winning movies in the LoTR trilogy was released, with his passion for the books, a professional background in tourism and publishing and a number of key locations on his then doorstep, he quickly identified a unique publishing opportunity. 

With the assistance of his publishers at HarperCollins Publishers NZ, he was able to persuade the multinational publishing group to add his guidebook to an already established publishing list. As the Location Guidebook quickly became a phenomenal success, the New Zealand media, Tourism New Zealand, Air New Zealand and NZ Trade and Enterprise all saw him as exceptional talent, across print, radio and television, and made good use of his enthusiasm, knowledge, passion, and excellent communication skills. He rapidly became the 'go-to' person for media handling the surge in publicity and international interest in the movie trilogy.
The Lord of the Rings
As a result, his associated 'Lord of the Rings' role grew rapidly, and he was Air New Zealand 's Lord of the Rings ambassador for Middle-earth for two years.

Through a shared interest in vintage aircraft, he earned the confidence of Sir Peter Jackson, who wrote a foreword, and in the course of researching the guidebook, he came to know Sir Richard Taylor.
In an exceptional concession he was allowed on set for filming pick-ups, allowed to take photos and indeed, even became an extra for a day. His close association with Weta Workshop has since continued, and he has personal references as to his confidentiality, reliability and professionalism from several leading figures in the international film industry, including Sir Richard Taylor and Barrie Osborne.

 In addition, he has established excellent contacts with local and international media:
Used by New Line Cinema and Tourism NZ as media escort during the second two LoTR movie premieres (The Two Towers and Return of the King) and for other associated media events at the time of release of both movies
TV3 presenter for live broadcast of Return of the King and The Hobbit: An Unexpected Journey World Premieres
Main reference point for Tourism NZ for all LoTR / Hobbit material (for accuracy etc)
Current role involves escorting and talking to media about NZ / locations
Regular radio commentator regarding film tourism / LoTR especially National Radio (Jim Mora)
Detailed Background
Born in Auckland, he was educated at Otahuhu College, before entering the travel industry, where he discovered a flair for the work and soon transferred to Christchurch, where he managed a travel agency. This was followed by a period at Air New Zealand, where he was Electronics Distribution System Co-ordinator for the South West Pacific.


His love of aeroplanes was matched by his passion for photography and he began taking air to air photographs, which in turn led to a meeting with one of New Zealand's renowned aviators, Sir Tim Wallis and subsequent employment in Wanaka, promoting Sir Tim's warbirds collection.


It was the start of a long association. In 1992 Ian Brodie spearheaded the establishment of the New Zealand Fighter Pilot's Museum at Wanaka Airport, and in 1997 spent time in Seattle as a consultant for Microsoft during the development of their Combat Flight Simulator software. As founding director he managed the NZ Fighter Pilots Museum until 2009, when he traded 'Wings for Rings' and shifted to Matamata.


Ian was employed as Media and Communications Manager for Hobbiton Movie Set Tours for four years before setting up his own business, Ian Brodie Consulting. Ian now offers professional advice in many aspects of the tourism industry. Film tourism and its multitude of benefits are a key aspect of the consultancy, with over 35 years of experience within the industry. In addition, expertise is offered in the field of aviation and aerospace museums.


Ian also operates world-wide as a photographer specialising in film set still photography and landscape imagery.


As well as his publishing interests, Ian Brodie was a key player in the internationally renowned Warbirds over Wanaka Airshow, and his intimate knowledge of the aircraft featured has seen him take on the role of anchor commentator at the show, as well as regular invitations to appear as a guest commentator at similar events in the USA and UK, including Biggin Hill.


Publishing Background
With more than 500,000 copies sold of the Lord of the Rings Location Guidebook, Ian Brodie was an inaugural winner of the prestigious Platinum Award from Booksellers NZ, along with the Edmonds Cookbook and the Yates Gardening Guide, both of which having had significantly longer periods to amass qualifying sales. The extended version of his original guidebook was released in August 2004 and has since received the Booksellers NZ Gold Award, with both formats of the guidebook continuing to sell steadily, nine years after the first movie in the trilogy was released.


In November 2005 HarperCollins released Cameras in Narnia, an educational book aimed at the YA market, on the basics of modern film-making, featuring the Walden Media / Disney adaptation of The Lion, The Witch and The Wardrobe. With a New Zealand publishing record for the largest ever single print run (800,000 copies) the book went on to sell more than 850,000 copies, with simultaneous publication in New Zealand, Australia, the United States and the United Kingdom) and a special edition was issued with the Extended DVD of the film in the USA. In New Zealand, it was named a Notable Book by Storylines and was a finalist in the LIANZA Awards and the NZ Post Book Awards, where it recorded the most votes for a non-fiction book in the prestigious Children's Choice Award. 

In 2006 he released A Journey Through New Zealand Film, showcasing New Zealand's films and their locations, along with comments from national and international directors and actors, such as Tom Cruise, Kate Winslet, Peter Jackson and Roger Donaldson.


Ian Brodie's New Zealand was released in November 2008, a photographic journey through his favourite parts of the country, to critical acclaim for its images and text.


In addition, Ian Brodie has ten aviation books to his credit, including the history of the Hurricane and still regularly writes articles and contributes photographs to aviation magazines worldwide.



He released The Hobbit Motion Picture Film Trilogy Location Guidebook in 2014 and Middle-earth Landscapes in 2015.
In the last two years Ian has released four titles to his own imprint, On Location Guides. Three of these are enhanced ebooks and are available for Apple, Android and Adobe platforms.
Other Significant Achievements


Multiple television presentation roles. Brodie researched, co-produced and helped present the Television NZ Documentary The Real Middle-earth, which aired in February 2004, and has also appeared with Phil Keoghan (The Great Race) as a co-presenter of a Discovery Channel documentary on New Zealand.
Hosted the Warbirds Over Wanaka 2008 DVD and documentary
VIP guide to movie set locations for a number of private tours for leading international visitors, including Susan Sarandon and Eric Schmidt (CEO Google).
In 2004, New Zealand Post issued a set of commemorative New Zealand stamps featuring his photographs of LoTR location images
In 2005, in the Queens Birthday Honours, he became a Member of the NZ Order of Merit for services to tourism.
Brodie has escorted the world's media on tours of film locations for Tourism New Zealand and in 2003 appeared on their behalf as guest speaker at a prestigious international tourism conference in Germany (ITB Berlin).
Internationally recognised as an authority on film tourism, he lectures regularly on the topic including onboard cruise ships sailing to New Zealand and at ITOC and i-SITE Conferences.
In 2006 he was guest lecturer on film tourism in Pattaya, Thailand at the PATA (Pacific Asia Travel Association) Conference. Keynote speaker at film tourism conferences in Norway, Germany and Poland.
An accomplished professional photographer winning international awards, his images have appeared worldwide in aviation and tourist publications, posters and billboards.
He has provided articles and photographs for travel magazines world-wide.
Winner of the inaugural Yahoo Best Travel Image.
Landscape images of New Zealand used by Tourism New Zealand for promotional work and hobbit backdrop for media and press.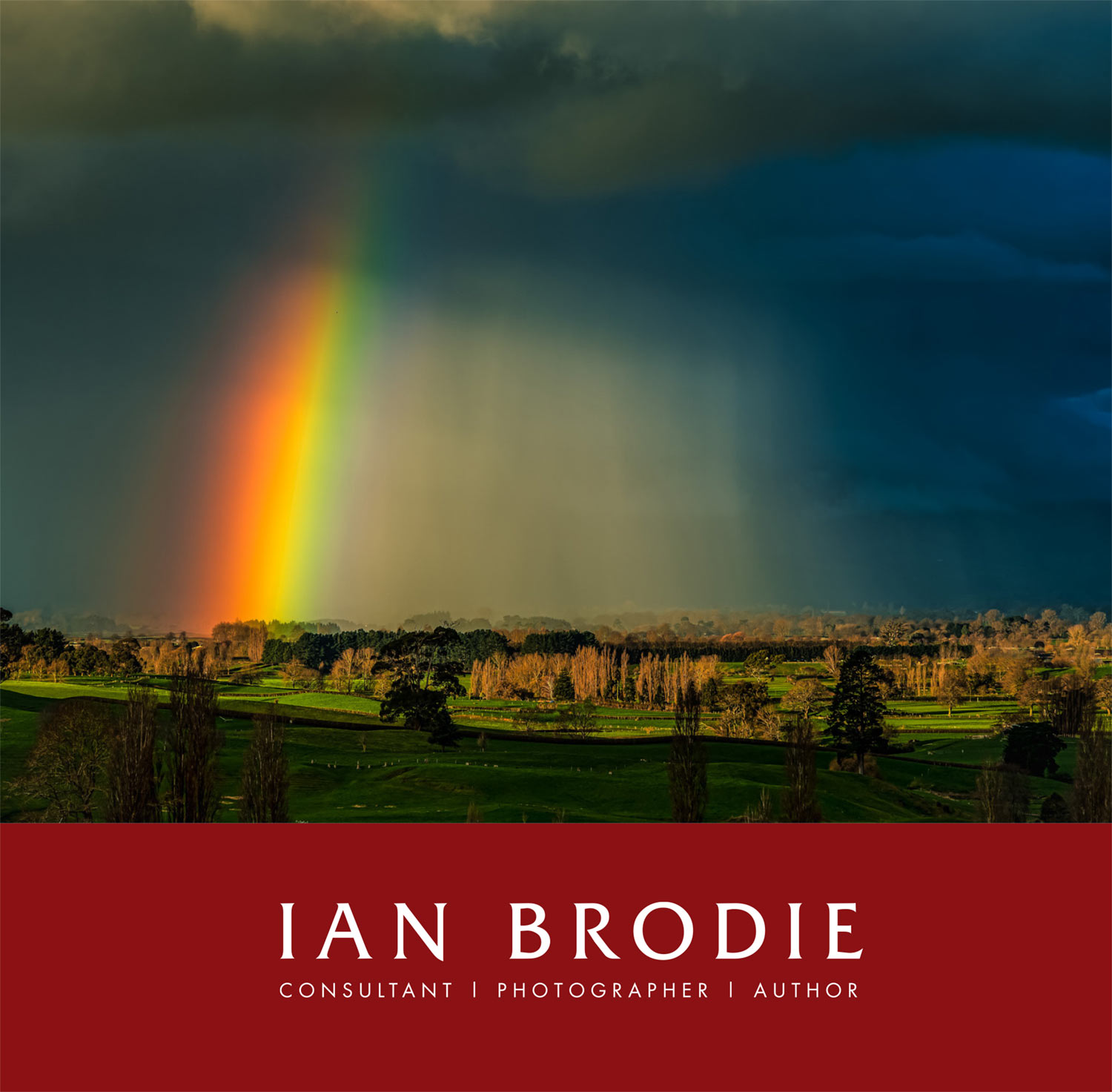 To read a fully illustrated guide to Ian Brodie Consulting, click here.