Screen Tourism and Affective Landscapes
The Real, the Virtual, and the Cinematic
Edited by ERIK CHAMPION, JANE STADLER, and ROBERT PEASLEE
Routledge (Taylor and Francis Group) have announced the publication of their book Screen Tourism and Affective Landscapes. This book is a comprehensive collection of essays by international scholars and a screen tourism practitioner, opening up a space for dialogue between the academy and industry. This interdisciplinary book is of interest to practitioners in a number of fields, including cultural studies, tourism studies, media studies, cultural heritage and visualisation studies.
My contributing chapter entitled Screen Tourism: Marketing the Moods and Myths of Magic Places explores a number of topics incorporating both the development and implementation of screen tourism in New Zealand and overseas. It offers some practical advice on building screen tourism destinations, tourism and film-making and case studies of some of my projects in New Zealand, Australia and Norway.
I am so very proud to have been invited to add my experience of screen tourism in the opening chapter - it's a passion that was awoken in me way back in 1974. As the only non academic contributor I am awed to be listed with the other authors and their scholarly backgrounds.
From the Publisher
This book explores ways in which screen-based storyworlds transfix, transform, and transport us imaginatively, physically, and virtually to the places they depict or film. Topics include fantasy quests in computer games, celebrity walking tours, dark tourism sites, Hobbiton as theme park, surf movies, and social gangs of Disneyland.
How physical, virtual, and imagined locations create a sense of place through their immediate experience or visitation is undergoing a revolution in technology, travel modes, and tourism behaviour. This edited collection explores the rapidly evolving field of screen tourism and the affective impact of landscape, with provocative questions and investigations of social groups, fan culture, new technology, and the wider changing trends in screen tourism. We provide critical examples of affective landscapes across a wide range of mediums (from the big screen to the small screen) and locations.
This book will appeal to students and scholars in film and tourism, as well as geography, design, media and communication studies, game studies, and digital humanities.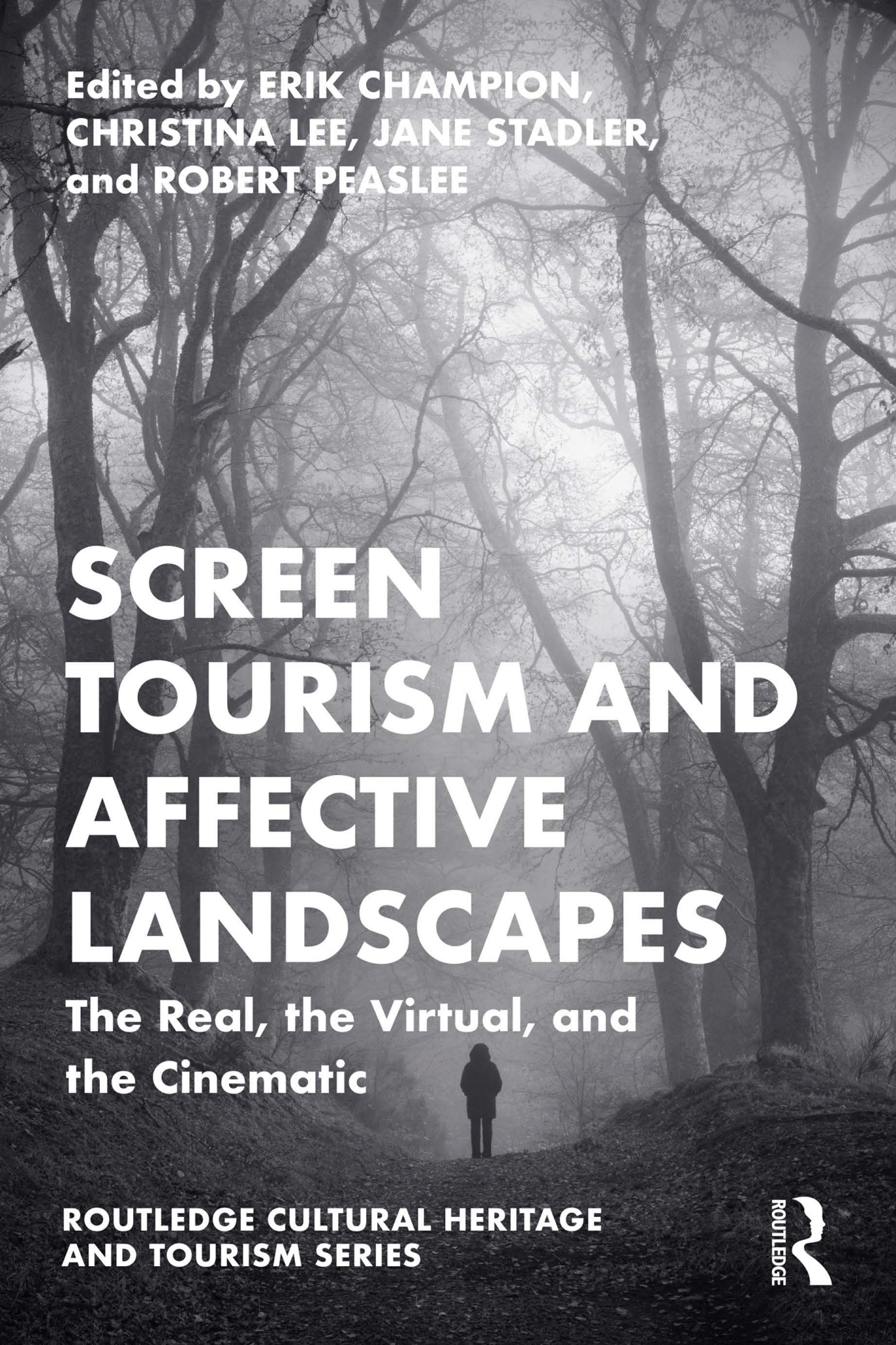 Table of Contents
List of Figures
List of Contributors
Acknowledgements
Introduction
Screen Tourism: Marketing the Moods and Myths of Magic Places
Windshield Tourism Goes Viral: On YouTube Scenic Drive Videos of U.S. National Parks
"Forever Bali": Surf Tourism and Morning of the Earth (1972)
Locating Fellini: Affect, Cinecittà, and the Cinematic Pilgrimage
Walking in Cary Grant's Footsteps: The Looking for Archie Walking Tour
Vancouver Unmoored: Hollywood North as a Site of Spectres
Always The Desert – Creating Affective Landscapes in Breaking Bad
Nordic Noir and Miserable Landscape Tourism
Serial Killer Cinema and Dark Tourism: The Affective Contours of Genre and Place
Down the Rabbit Hole: Disneyland Gangs, Affective Spaces, and Covid-19
Immersive Worlds and Sites of Participatory Culture: The Evolution of Screen Tourism and Theme Parks
Hobbiton 2.0, 20 years On: Authenticity and Immersive Themed Space
Swords, Sandals, and Selfies: Videogame-Induced Tourism
Index
Purchase
Screen Tourism and Affective Landscapes
The Real, the Virtual, and the Cinematic
An Excerpt
The Magic of Film Locations

I was first drawn to the relation of film location and touristic landscape in the mid-1970s. As a teenage film enthusiast, I was enamored with the social revolution that had been taking place in the USA, often featuring an escapist landscape of freedom from traditional teenage norms where longer hair, drug use, and ideals differed greatly from WWII-era parents. These ideals were shaping a number of films. Zabriskie Point, Easy Rider, Vanishing Point, and Two Lane Blacktop are famous examples of this genre where, invariably, the main protagonists shun expected norms of life in 1960s America and escape to the road, taking the viewer with them on a journey of escape that features fantastical landscapes (such as Zabriskie Point in Death Valley) mixed with the popular music of the time. The finale in Zabriskie Point is an architecturally designed desert house (owned by one of the "normal" protagonists) exploding to a soundtrack from the popular rock band Pink Floyd.

Zabriskie Point impacted me in several ways. The ideals that were presented intrigued me, probably because of my own drug experimentation and thoughts of rebellion that most teenagers seem to embrace at some time during those formative years. The landscape and music combined to provide a strong desire to visit Zabriskie Point and experience some of the emotions that I felt while watching the film. The sweeping desert of Nevada was something that (as a New Zealander) I had never experienced. It showed lonesome roads, diners often filled with disapproving adults, clear blue skies, and heat that seemed to penetrate the soul. Especially though, the open road was a means of escape from the norm – it was adventure. It is this mixture that is a key motivator in the film tourism traveller.

Ian Brodie
Contributors
Erin Ashenhurst is a faculty member at the Wilson School of Design at Kwantlen Polytechnic University, Canada.
David Bailey assisted the UCF Blackstone LaunchPad and Center for Innovation and Entrepreneurship and directed research with the UCF Film Department and Themed Experience program.
Carissa Baker, is Assistant Professor of Theme Park and Attraction Management at the University of Central Florida.
Gemma Blackwood is Media Lecturer at the University of Tasmania and a researcher of visual culture, focusing on screen media.
Kornelia Boczkowska is Assistant Professor in the Department of Studies in Culture, Faculty of English, Adam Mickiewicz University, Poznan, Poland.
Ian Brodie, MNZM, is a film tourism consultant, award-winning photographer, and internationally successful author who has published 22 books to date.
Erik Champion is Enterprise Fellow at University of South Australia, Emeritus Professor at Curtin University, Australia, Honorary Research Professor at ANU, and Honorary Research Fellow at UWA.
Charlotte Crofts is Associate Professor of Filmmaking at the University of the West of England (UWE Bristol) and Founder and Director of the biennial Cary Grant Comes Home for the Weekend Festival.
Ray Eddy is Lecturer in the College of Business at the University of Central Florida.
Richard Ek is Professor of Human Geography at the Department of Geography, Media and Communication, Karlstad University, Sweden.
Kenneth Fox is Principal Lecturer and School Director of Learning & Teaching in the School of Creative Arts & Industries at Canterbury Christ Church University, specializing in film landscapes.
Lesley Hawkes is Associate Professor of Professional Communication in the School of Communication at Queensland University of Technology.
Mia Larson is Professor of Business Administration at the Center for Service Research at Karlstad University, Sweden.
Christina Lee is Senior Lecturer in English and Cultural Studies at Curtin University, Australia. S
Jane Lovell worked at the Royal Opera House Covent Garden and at Canterbury City Council. At Canterbury Christ Church University, Jane specializes in teaching heritage and creative Industry management.
Can-Seng Ooi is Professor of Cultural and Heritage Tourism at the University of Tasmania.
Robert Moses Peaslee is Associate Professor at the Department of Journalism and Creative Media Industries, Texas Tech University, USA.
Bobby Schweizer is Assistant Professor of Journalism and Creative Media Industries at Texas Tech University, USA.
Jane Stadler is Honorary Professor of Film and Media Studies at The University of Queensland in Australia.
Stephanie Williams-Turkowski is Lecturer at Texas Tech University in the College of Media and Communication.
Alberto Zambenedetti is Assistant Professor at the Department of Italian Studies and the Cinema Studies Institute, University of Toronto.