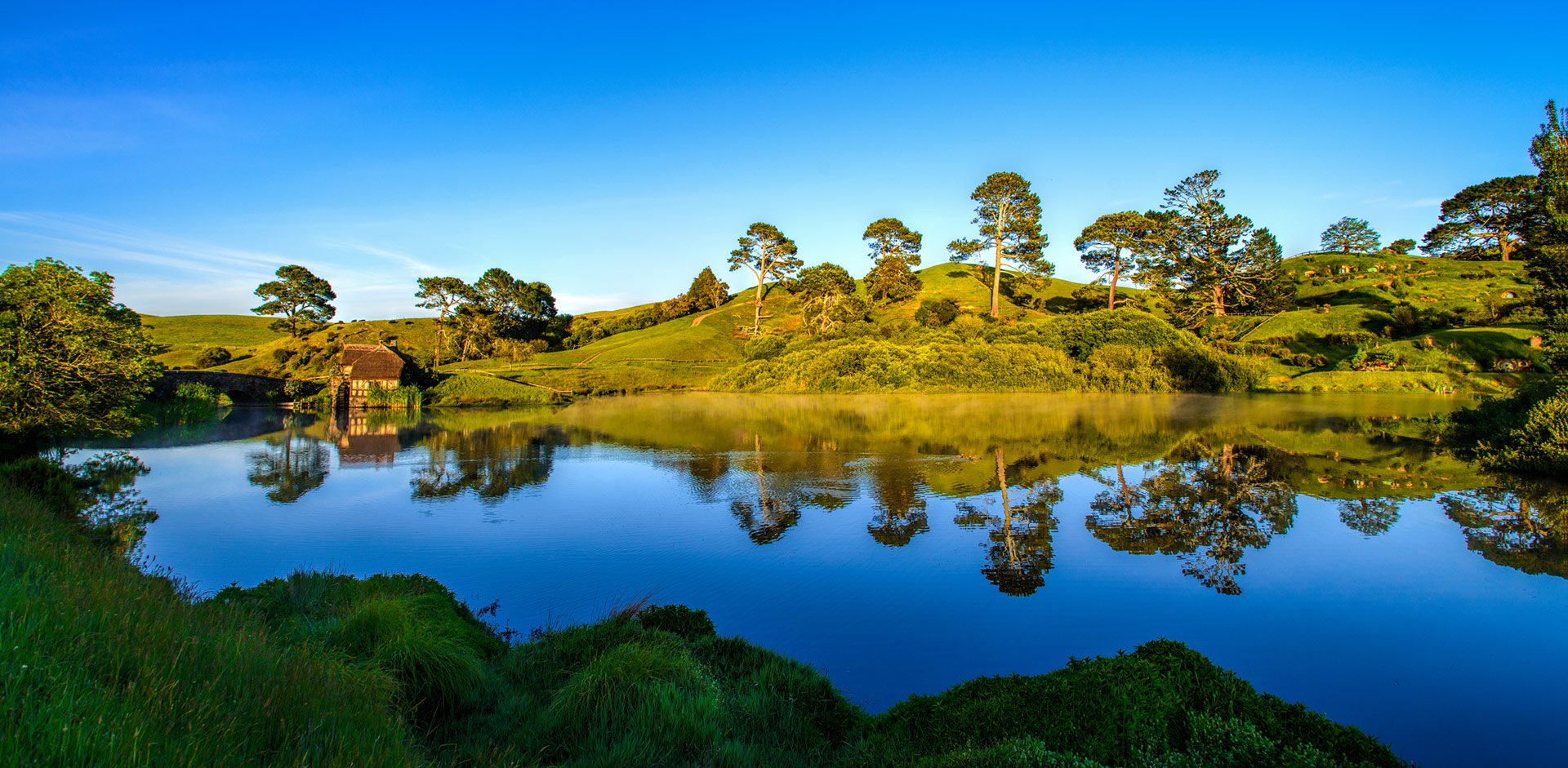 Consultant
Ian Brodie is a film tourism expert and offers a multitude of skills, particularly in tourism, heritage and cultural operations and film production. His abilities as a writer, photographer and enhanced e-book creator means he can use these talents to provide a "one-stop shop" approach for clients.
His multi-faceted approach to a clients requirements can be realised in both a cost effective and timely manner and a direct client to consultant/producer flow also facilitates a seamless production flow.
Ian is a household name with fantasy and film location fans, and he has been described as the ultimate Tolkien fan. The 64-year-old is widely recognised as a 'Middle-earth' guru, and author of three film tourism related best-selling books: The Lord of the Rings Location Guidebook, The Hobbit Motion Picture Trilogy Location Guidebook and Middle-earth Landscapes.
As a result, his name and face are familiar; both nationally, and even more significantly, internationally, to dedicated film tourism fans, in a manner that is quite unique. The vast army of dedicated Tolkien fans, who are the target market for both The Hobbit and The Lord of the Rings films, and by association, for 'Middle-earth Aotearoa' know he is one of them, and respond to him in a way no other professional actor or spokesperson can hope to replicate.

In the twenty years since the release of his first guidebook, Ian has developed a unique understanding of the film tourism market. He now offers this wealth of experience to individuals, corporate organisations and government agencies wishing to further develop their tourism or film strategies.
Film Tourism
Ian Brodie has been involved in tourism for many years and is internationally recognised as an authority on film tourism.
He lectures regularly on the topic including onboard cruise ships sailing to New Zealand and at ITOC and i-SITE Conferences. In 2006 he was guest lecturer on film tourism in Pattaya, Thailand at the PATA (Pacific Asia Travel Association) Conference. He has been a keynote speaker at film tourism conferences in Norway, Poland & Germany.
His involvement with film and tourism provides practical knowledge and stratagem to governments and tourism organisations as well as film production companies wishing to leverage tourism as part of their film development and subsequent publicity. He has projects with film in Norway, England, Germany and New Zealand.
Ian has created a number of film location guide books (both printed and e-book) in a number of countries.
Clients
Clients include;
Visit Somerset
Mesna Activities and Accommodation
Visit Rjukan
Galatia Films
Visit Norway
Into Norway
Paradox Film
Nice View Studios
Ngai Tahu Tourism
Visit Lillehammer
Tourism New Zealand
Visit Røros
UNESCO World Heritage
ScreenWest
Great Southern Development Commission
Goldfields Esperance Development Commission
Development Blueprint
Ian has a multitude of talents that provide a blueprint for development. These include;
Film Tourism Development of Locations
Mentorship
Photography
Writing
Social Media Content and Production
Enhanced e-Book design, development, content, production and sales
Video production
Advanced skills in Photoshop, In Design, Lightroom
Graphic Development
Electronic Press Kits
Media Strategy
Voice-Over
Television and film presenter
Education and staff training
Current Portfolio
Books, (Enhanced, e-Book), Books, (Printed), Current, Film, Tourism, Screen, Tourism, and, Affective, Landscapes

·

0 comments

Books, (Enhanced, e-Book), Clients, Consultant, Current, Journeys, in, WA, Western, Australia

·

0 comments

The Western Australian Museum has just released the enhanced e-book Batavia

Australia, Books, (Enhanced, e-Book), Clients, Consultant, Current, Film, Tourism, Screenwest, Western, Australia

·

0 comments

Australia, Books, (Printed), Clients, Consultant, Current, Film, Tourism, Screenwest, Western, Australia

·

0 comments

Books, (Enhanced, e-Book), Clients, Current, On, Location, Guides

·

0 comments

Books, (Enhanced, e-Book), Current, Rams, Screenwest, Western, Australia

·

0 comments

Australia, Books, (Enhanced, e-Book), Clients, Current, Film, Tourism, Western, Australia

·

0 comments

I am delighted to be able to share my first screen tourism guide in Western

Images for <a href="http://www.eurostop.no" target="_blank"

Birkebeinerspelet, Birkebeinerspelet, Clients, Current, Unit, Stills

·

0 comments

In February 2017 the first Birkebeinerspelet took place at Mesna Activities and

Birkebeinerne, Paradox, Film, Unit, Stills

·

0 comments

In February 2015 Ian Brodie was Unit Stills Photographer for the feature film

Books, (Printed), Clients, Current, Into, Norway, On, Location, Guides

·

0 comments

Ian Brodie is proud to be a co-founder with Pal Rørby of Hidden, an innovative

Clients, Current, Mesna, Activities, and, Accommodation

·

0 comments

Books, (Enhanced, e-Book), Clients, Current, Into, Norway, On, Location, Guides

·

0 comments

Books, (Enhanced, e-Book), Clients, Current, On, Location, Guides, Visit, Somerset

·

0 comments

Books, (Enhanced, e-Book), Clients, Current, On, Location, Guides, Visit, Rjukan

·

0 comments
---