Ian has strong roots in Somerset. His forebears lived there for hundreds of years before a branch of the family emigrated to New Zealand in the late 1800's. Visiting Somerset many times on holiday, this love turned to a collaboration with Visit Somerset to create an enhanced e-book covering the diverse history and heritage of the county.
In 2015 Ian shifted to Wells and spent six months travelling over 5000 miles around Somerset, capturing the area and all of its beauty. The resultant e-book was launched at the Palace of Westminster in May 2016 (pictured here).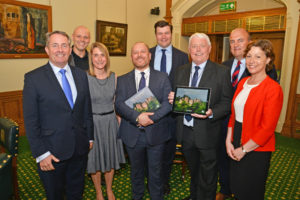 Ian said: "One of the main things that surprised me about Somerset was its diversity. In such a small distance you can see very different attractions, many that you would not expect to find in England.
"I fell in love with The Levels. It is an area of unexpected beauty. Walking along a path with the rustling of reeds on one side and distant views of the magic of Avalon peeping through trees on the other is quite spectacular. We arrived at a bird hide and expected to spend a moment there. An hour later we were still there, the only humans in sight, watching the sun and clouds play over the water of The Levels".
"The seven months I spent in Somerset were pure adventure. Every day out photographing was a treasure. I remember one very fondly, starting with the magnificent gardens of Tintinhull, continuing to the wonder of Barrington Court and then climbing up a well-worn path through the woods to legendary Camelot with its stunning views across to Glastonbury Tor".
"The people of Somerset are so proud of their county. This was evident every time I went out to photograph. They would ask what I was doing and why – when I told them about their wonderful county you could see how proud they were, that it was about to be shared world-wide".
"I want people to see the beauty of Somerset. The images in this book are my memories of a wonderful seven months and now I can share that, world-wide. There are so many secret places that are yet to be discovered, by either a Somerset local or a visitor from a far flung part of the world. If the reader uncovers a hidden treasure and learns a little of its history, I will be happy."
Click here for more information about Visit Somerset.
Visit Somerset: History and Heritage
Download the enhanced e-book